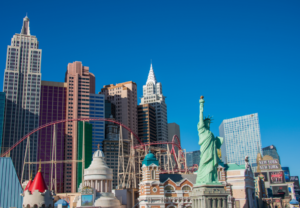 Despite being located in the middle of a desert (the Mojave to be specific, and that's going to become quite apparent after your arrival) Las Vegas truly is Nevada's very own oasis. What that translates to is this: There is a fair amount to see outside of Las Vegas proper, such as the Hoover Dam, but we're going to guess that the reason you flew here in the first place is to see the places that made Vegas so legendary.
According to Dr. Benjamin Ruby, whose Florida-based travel agency can help you plan the perfect trip to Vegas, there are a number of "must-see" destinations for those headed west. You'll find his picks for visitors to "The Strip" below, which are bound to dazzle and entertain visitors who've trekked to this world-class resort town for something not available anywhere else.
More than gambling: The casinos of Las Vegas were wise to diversify their portfolio. Not everyone has an interest in gambling so shopping, eating and entertainment destinations are contained within. Want to take a gondola ride through a re-invented Venice? The head to The Venetian, where upscale shops are situated along a meandering waterway that cuts through the casino.
Back to the roots: The casinos of Las Vegas actually got started on the other end of town along Freemont Street. Presently, what's known as the "Freemont Street Experience" really lives up to its name. According to Dr. Benjamin Ruby, this five-block-long stretch contains all the glitz and glam of old Vegas — just updated with attractions like the world's largest television screen and a zip line that shoots patrons down the street and far above the shoulder-to-shoulder crowds.
Water works: Undeniably Vegas, The Fountains of Bellagio are a treat for the eyes and ears. These fountains are programmed to perform shows set to lights and music, with towers of water shooting many stories into the air. What's more, the shows are free for anyone to stop and watch. Take time out to swing by the Bellagio during one of the frequent and regularly-scheduled performances.