Regardless the time of year, New Orleans has proven itself as a tourism destination like no other. "The Big Easy," as its affectionately known by locals and those who've traveled there and experienced its laid-back personality, is Louisiana's premier destination for visitors thanks to its moderate weather, nightlife and historical attractions. According to Dr. Benjamin Ruby, whose Florida-based travel agency can help with booking such a trip, it's the latter that shouldn't be overlooked by those seeking out a good time. Sure, everyone has heard of Bourbon Street and the Mardi Gras celebrations but we're here to let you in on some of the more significant attractions that don't involve a hangover or glittery beads.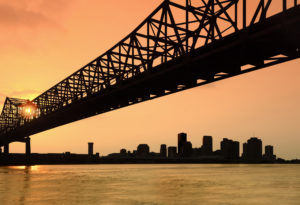 Trust us: It's not macabre to think of the above-ground cemeteries when you think of New Orleans. Seeing as the city was built on a swamp, burying the dead beneath the marsh was impractical and just going to lead to complications later on. These "Cities of the Dead," as locals call them, contain revered New Orleans natives and draw both tourists and city residents alike. No trip to New Orleans is complete without seeing how the dead are entombed here.
Naturally, we must suggest seeing the sprawling campus of The National World War II Museum. This is America's official museum that marks the greatest conflict of the 20th Century and it delivers. Uniforms, weaponry and documents from all sides of the conflict are on display for visitors to inspect at their leisure. According to Dr. Benjamin Ruby, a Florida-based travel agent who has decades of experience helping vacationers pick the perfect destination, both European and Pacific theaters of the conflict are explore in-depth and vehicles as well as aircraft are on prominent display. Tours are enhanced by audio and visual retellings from veterans as well atmospheric walks through the forests of Belgium or jungle of the South Pacific.
While strolling around the city or riding around on one of the street cars, take time to consider visiting one of the many historic districts. From churches to businesses to residential homes, the styling of the 1800s are on display for visitors. Sites like the Gallier House and accurately-recreated 1850 House in the city's French Quarter show off architectural highlights of an era gone by.